Connecting people with who and what matters to them, helping to make life better.
That's our company purpose. It tells you who we are: a diverse team dedicated to providing safe and efficient public transport to every corner of Ireland. It gives you an insight into our culture of how we work in collaboration and with respect for each other, how we always put the customer first, striving every day to be the best we can be because we love what we do.
We are a commercial semi-state, providing services on behalf of the Dept. of Transport and the Dept. of Education. We are one of Ireland's largest employers, with a workforce of over 2,800 people across the country.
WE'RE HIRING DRIVERS IN DROGHEDA NOW!
Drogheda Driver Recruitment Open Days Saturday 21st and Sunday 22nd January 2023.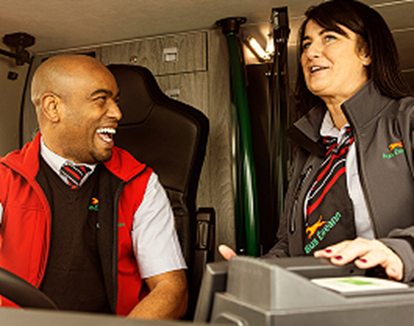 Start your journey with Ireland's most customer-centred, sustainable transport company.
Location: CityNorth Hotel, Gormanston, Co. Meath K32 W562.
When: 8am to 3pm, Saturday 21st and Sunday 22nd January 2023.
If you're a Category D Licence holder, bring your driving licence, CPC and Tachograph Card so we can fast track your application.
If you're a Category B or C Licence holder or if you hold a Category D Learner Permit, and dream of becoming a professional bus driver, come along and learn about our training programme.
Or, you can apply online here.
Bus Éireann helps people all across the country make over 80 million journeys every year, as Ireland's national bus company, our purpose is to connect people with who and what matters to them, helping to make life better.
Over 2,800 people make up the Bus Éireann family and live our values of safety and of putting you, our customer, first. We strive to provide a transport service of the highest possible standard with a focus on quality and safety.
Bus Éireann has inherited a proud tradition of service that dates back almost to the foundation of the State. For more than 90 years, the national bus network has been an integral and essential part of Ireland's transport infrastructure. Bus Éireann continues to build on its tradition of public service and transport expertise to give the people of Ireland a public road transport system of which they can be justly proud.
We are committed to delivering a consistently excellent customer experience through the dedication and skill of our people, while ensuring that we remain competitive.
Our goal is that by 2023 we will be the most customer-centred and sustainable transport company in Ireland, with services provided by people who believe in Bus Éireann as a great place to work.
If you have a genuine interest in being a Heavy Vehicle Mechanic, you won't go wrong at Bus Éireann. High quality training, encouragement to look at things differently and adapt processes to keep moving forward; a modern growing fleet to work on in a changing industry with HGVs evolving to hybrid, electric and hydrogen technology.

There is always something new and interesting to be involved in. Don't be afraid to give it a go, and never be afraid to ask a question, ther...

Liam - AVL Fleet Service Support Technician

I always had an interest in motors growing up, anything to do with engines. I completed a Fetac Level 5 Motor Vehicle Technician Course in TUD and knew this was something I wanted to pursue further. As a mature student, I was sceptical but all my colleagues have been more than helpful and have welcomed me with open arms.

It is a fun and enjoyable place to work as every day is different with new tasks and challenges. I can't wait to see what my journey has ...

Samantha - Apprentice HV Mechanic

​The internship with Bus Éireann was a worthwhile experience where I was learning new skills and was trusted to work independently and on my own initiative on the varied tasks assigned. Throughout the internship felt I was supported in my work from all departments encountered.

I would definitely recommend this internship especially if you have an interest in sustainability, the environment and energy management.

Aidan - Sustainability Intern