Connecting people with who and what matters to them, helping to make life better.
That's our company purpose. It tells you who we are: a diverse team dedicated to providing safe and efficient public transport to every corner of Ireland. It gives you an insight into our culture of how we work in collaboration and with respect for each other, how we always put the customer first, striving every day to be the best we can be because we love what we do.
We are a commercial semi-state, providing services on behalf of the Dept. of Transport and the Dept. of Education. We are one of Ireland's largest employers, with a workforce of over 2,800 people across the country.
We are recruiting a Chief Information Officer!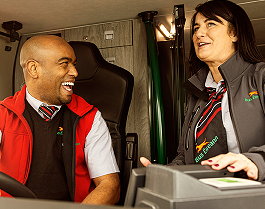 The successful candidate will deliver a company-wide strategic vision and digital strategy for the development and maintenance of its IT software systems. As part of this, the appointee will lead the creation of the progressive data management platform and technology infrastructure required by Bus Eireann's expanding organisational needs. He/she will have responsibility for the progressive enhancement of the IT Division, creating a high-performance culture with diverse IT talent/capabilities and will lead business change through innovation and new technologies. The ideal candidate will have demonstrable experience leading and implementing digital strategy and change in large/complex commercial enterprises. He/she will have the ability to build a strategic and innovative IT vision and roadmap which will deliver increased commercial and operational efficiencies. Excellent leadership, collaborative approach and communication skills will be essential to the performance of this role.
The appointee will have relevant third level qualification(s).
Preferred latest date for receipt of applications is Friday 19th August 2022.
Candidates should forward by email full career details in complete confidence, stating how they meet the requirements for this post, to:
Barry Herriott Search and Selection at info@barryherriott.com
Bus Éireann helps people all across the country make over 80 million journeys every year, as Ireland's national bus company, our purpose is to connect people with who and what matters to them, helping to make life better.
Over 2,800 people make up the Bus Éireann family and live our values of safety and of putting you, our customer, first. We strive to provide a transport service of the highest possible standard with a focus on quality and safety.
Bus Éireann has inherited a proud tradition of service that dates back almost to the foundation of the State. For more than 90 years, the national bus network has been an integral and essential part of Ireland's transport infrastructure. Bus Éireann continues to build on its tradition of public service and transport expertise to give the people of Ireland a public road transport system of which they can be justly proud.
We are committed to delivering a consistently excellent customer experience through the dedication and skill of our people, while ensuring that we remain competitive.
Our goal is that by 2023 we will be the most customer-centred and sustainable transport company in Ireland, with services provided by people who believe in Bus Éireann as a great place to work.
If you have a genuine interest in being a Heavy Vehicle Mechanic, you won't go wrong at Bus Éireann. High quality training, encouragement to look at things differently and adapt processes to keep moving forward; a modern growing fleet to work on in a changing industry with HGVs evolving to hybrid, electric and hydrogen technology.

There is always something new and interesting to be involved in. Don't be afraid to give it a go, and never be afraid to ask a question, ther...

High reputation for maintenance quality and an impressive fleet

I always had an interest in motors growing up, anything to do with engines. I completed a Fetac Level 5 Motor Vehicle Technician Course in TUD and knew this was something I wanted to pursue further. As a mature student, I was sceptical but all my colleagues have been more than helpful and have welcomed me with open arms.

It is a fun and enjoyable place to work as every day is different with new tasks and challenges. I can't wait to see what my journey has ...

Achieve your maximum potential